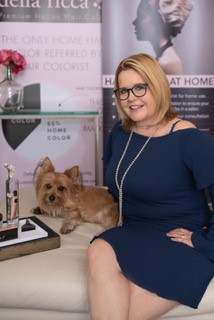 Della Ricca was founded by American Board Certified Hair Colorist, Karen Anne Jacks, who believes every client deserves THE BEST "Do-It-Yourself" hair color experience that reflects their own unique brand of beauty.
Della Ricca's exclusive salon grade hair color was created in Italy to exact specifications.
Karen and her stylist partners, whom we call "Hair Heroes," understand the science, chemistry, and artistry of hair color and recognize that every client is unique. Each order is customized and hand-selected, adding a personal touch by a professional colorist who understands your desired outcome. We take pride in our pledge to honor our client relationships and will continue to earn your trust with every consultation, purchase, and reorder.
Your satisfaction is important to us here at Della Ricca. If for any reason you are unhappy with your results, we have a money-back happy Della Ricca promise!


SUPPORT / INFO
powerfulhue@dellariccahaircolor.com
Della Ricca 1900 W Gray St, #131059 Houston, TX. 77019