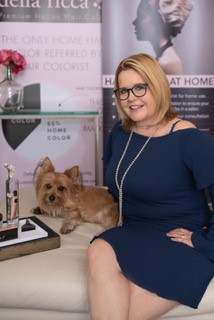 Welcome!
Words from Della Ricca's founder and president, Karen Anne Jacks
Dear Hairdressers,
If you are afraid you are going to lose your clients to box hair color, don't be. If your clients wanted to color their hair at home, they would be doing it already; large box hair color companies are already spending millions per year targeting YOUR clients.
The good news is that studies show that salon clients are amongst the most loyal clients; they are coming to you for the total experience of the salon treatment. By becoming a Della Ricca Hair Hero your business grows! You do not lose the clients you already have — you gain the home hair color clients that you don't already have. Imagine getting paid every time someone colors their hair at home!
Over the past 30 years as a hairdresser, I had always despised home hair color. It is an inferior product — low quality oxidized pigment to promote shelf life — often producing bad, inconsistent results. People often choose products that might be inappropriate for their needs. And like you, annoyance that it bypasses the hairdresser altogether.
I thought: How can I solve this problem?
First, I needed to create a quality cream hair color that can be customized in small tubes, just the right amount for one application, to deliver salon quality unoxidized pigment to the home client.
Second, provide a custom developer at just the right strength for each client's individual needs.
Third, create a customized, personalized application specifically tailored to each customer.
Fourth, develop a business model that marries the expertise of professional hair colorists with the needs of the home customer, and make it work for both. Finally, a home hair color that includes the hair colorists!
Here is how it works:
1) Della Ricca sends the DIY market into your salon.
2) Della Ricca ships the color. (No inventory for you!)
3) The Hair Hero (you) earns a residual income! And this continues with every reorder.
4) For those special or difficult cases where home hair color is not appropriate, you get a potential new salon client; Della Ricca knows that not all situations are appropriate for home hair color. Unlike box hair color, we will not sell the wrong product to clients with special hair needs.
Welcome to the next level of home hair color.
Karen Anne Jacks
CEO/Founder/Hair Hero